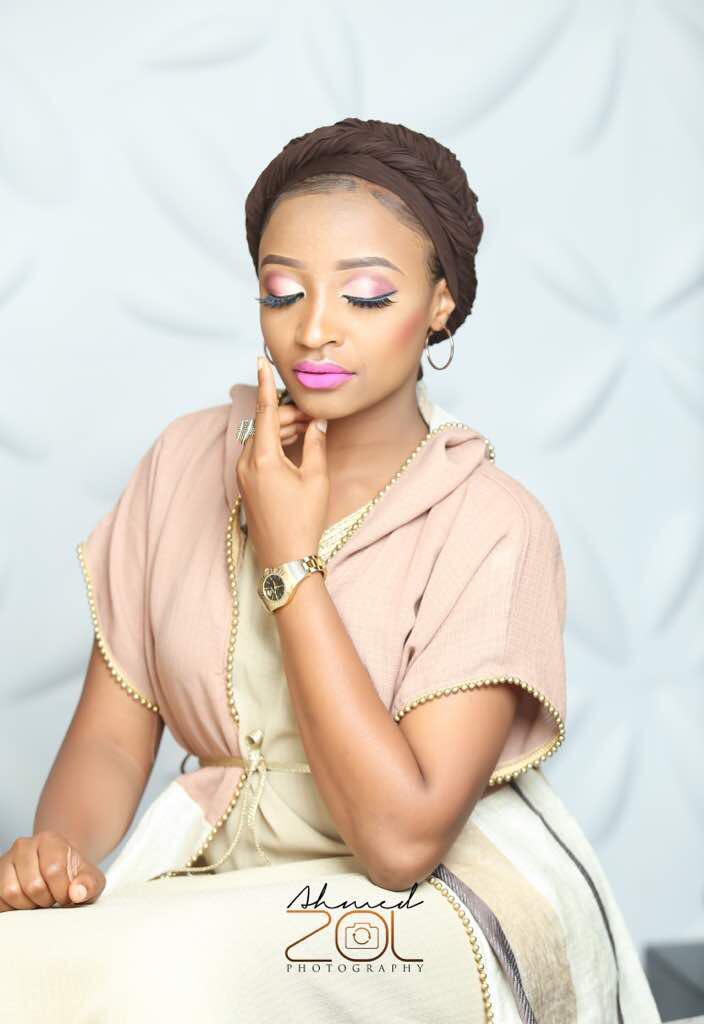 Mubarak Umar (@Mubarack_Umar) who has been a from day one fan of Kannywoods famous actress Rahama Sadau describes her and her siblings as the Kadashians of Nigeria. He stated this via his twitter handle where he twitter a thread he titled " Why/How @Rahama_Sadau Excel".
READ HIS TWEETS BELOW:
"As someone who knows this actress right before she adventured into film industry. I will state some qualities on how and why she excel."
1- my first encounter with Rahma_sadau was around 2011 when she was performing at India Show. The way she moved her body, dancing Indian music, I feel the presence of Madhuri Dixit in me.
Rahama Sadau is the best female dancer my eyes see in real life.
2- Rahma_sadau is ambitious. She follows her hearts. She does not listen to anything that will jeopardize her dream.
3- Rahma_sadau entry to Kannywood did come to me as a surprise. But, when I first met her at one set, I saw star-born actress. She acts very well.
4- There is natural norm for someone who did not attend Film College. Most of the new comers are nerve-racking. But for Rahma_sadau she just started like someone who has been in the profession for long.
5- Rahma_sadau started working her way to a pre-determined destination. Her goal was to become an entertainer; so she seized every opportunity that presented itself.
6- Within a short period of 2years. Rahma_sadau become household name in northern Nigeria. Her dancing skills garnered her popularity.
7- A very ambitious lady, in the short time that she has been in the industry, Rahma_sadau launched her prod company. She has since produced one feature film, one short film and another one is on the way.
Undoubtedly, she has established herself as one of the best producers.
8- Rahma_sadau made social media an excellent use. She gets fans beyond Kannywood. From day one, her admirers know she is different.
9- From a supposed ban that was meant to truncate her career and bring her into disrepute, Rahma_sadau has surprisingly been catapulted from regional recognition to national and even international attention.
10- Rahma wasted no time in telling the world her dream of finding her place of honour in the world of make-believe.
An actress who gyrates with rhythmic passion, she is never shy of setting a goal for herself and attaining her heart's desire.
11- Rahma_sadau is among the busiest stars in the Nigeria's film industry. Since her work leaves her with little time, she depends on a team to manage her finances. She leaves it to the people who actually know what they are doing.
12- Rahma_sadau exudes sheer
wisdom in refusing to let the anger and criticisms of her conservative fans disrupt her career, following her appearance in a music video that displeased them.
13- Rahma_sadau operates her social media handles to the excellent use and thereby getting more fans on daily basis. She is most followed Kannywood celebrity on Twitter.
14- Rahma_sadau has gotten herself signed at an international level. That put more pressure on the competition actresses of Kannywood face on the global stage.
15- Rahma_sadau is very vocal. She expresses herself whenever it requires. She is not nerve-racking. She likes interacting with new people; she accommodates and even gives them time for lunch or dinner.
16- Almost 5 years into the film industry, Rahma_sadau remains sensitive to criticism. Only her family and friends know where to find her when a movie tanks.
17- By bringing her siblings to the public sphere, Rahma_sadau has, undoubtedly differentiated herself from other stars who normally hide their family for one reason or the other.
They are the #Kardashians of Nigeria.
teema_sadau abba_sadau
18- Rahma_sadau has set out to explore a parallel career. She also channelled her passion for entertaining into the music business. Where she featured in ClassiQ_ music video.
19- Rahma_sadau unique acting skills led to her to ventured into southern Nigerian film industry, Nollywood. She made name their, and got an invitation from African-American singer Akon. That was the main reason for Rahma_sadau to make it to the world.
20- And lastly, Rahma_sadau's beauty, smile and socialism are not farfetched. She is:
Scintillating
Mesmerising
Adoring
Loving
Caring
Admiring
The list are endless.
Wish you all the best
SEE PICTURES OF HER SIBLINGS BELOW: